TDI TURBOSTART™
Air Starters Deliver
Aerospace Performance
At Industrial Prices.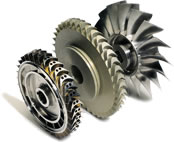 TDI's turbine expertise was honed in the late 1950s and '60s by being a leading provider of wind tunnel simulators and many other types of turbine equipment. The company's mastery of precision turbine blade machinery earned them a significant amount of custom project work from the aerospace industry. By the 1970s TDI was applying their engineering and manufacturing capability to the first turbine air starters specifically designed for non-aircraft gas turbine engines.

The TurboStart line began in 1979 and was distinguished for rugged simplicity, low maintenance, and the industry's most reliable starter in harsh environments. Soon the company began to engineer starters for the oil and gas industry, mining, and marine markets and today is the world's number one manufacturer of turbine air starters.